Be our guest for a day at KlezKanada!
August 19, 20, 21, 2014
Passes are available for guests that would like to attend a single day or evening of KlezKanada's world-class programming. KlezKanada offers unique programming in a beautiful and relaxing retreat environment. Kosher meals are provided.
Every day there are lectures, afternoon and evening concerts followed by dancing and our famous KlezKabaret, Workshops, visual art classes, Bagegenish mit yidish, Yiddish classes for beginners and advanced speakers, a Yiddish sing-along after dinner, Yiddish nature walks…and so much more! The daily schedule includes lectures and workshops from 9-10:30 a.m. (AM1), 10:45 a.m. to 12:15 p.m (AM2), 2:00 – 3:30 p.m. (PM1), 3:45 – 5:15 p.m. (PM2) and 5:30 – 6:30 p.m. (PM3). Daily concerts are at 5:30 and 8:30 p.m.
Children and families are invited to join the KlezKids program during their day at KlezKanada!
In addition, each day features unique programming.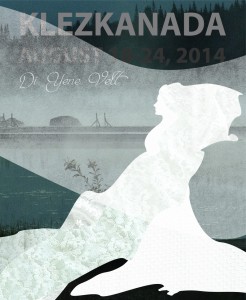 Our 2014 brochure is now online with our highlights, full program, and daily schedule. Download the pdf by clicking on the cover image. PLEASE NOTE: All programming is subject to change.
Tuesday, August 19, 2014
Afternoon Concert – 5:30
Sandaraa
Evening Concert – 8:30
The Brothers Nazaroff
Vocal Summit with Joanne Borts, Cantor Jack Mendelson, Sarah Gordon, and Janie Respitz
Wednesday, August 20, 2014
Afternoon Concert – 5:30
Shtreiml
Ichka
Evening Concert – 8:30
Groyser Kontsert
Sklamberg and The Shepherds
Forshpil
Thursday, August 21, 2014
Afternoon Concert – 5:30
Shura Lipovsky
Josh Waletzky
Evening Concert – 8:30
Black and White Ball –  Yene Velt Farbrengen, an OtherWorldly Fete