KLEZNESSAINCE
Led by Adeena Karasick
Welcome to the 6th year of KlezKanada Poetry Retreat 2017!
In keeping with the theme of this year, the Renaissance, the Poetry Retreat will feature a week of poetry workshops, seminars, master classes, and performances that track historic and aesthetic notions of re-naissance, méconaissance, and the re-visioning and reformulation of language and language use.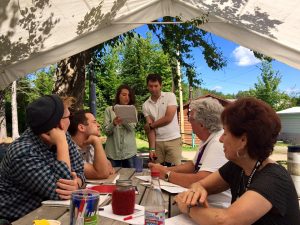 The retreat will feature seminars with internationally celebrated poet and performance artist, Adeena Karasick. Participants are also invited to immerse themselves in music, dance, art, film and theater workshops, at one of the most widely renowned Jewish music festivals in North America, with an all-star faculty from around the globe. The retreat culminates with a festival-wide performance, and the construction of a chapbook of the work created over the week. Come celebrate and collaborate, surrounded by world-class klezmer concerts, readings, parties, performances, and private instruction in the gorgeous Laurentian mountains.
The works of our students have been published in the Forward  – see Jewish Poets in the Woods and Music and the Laws of Poetry a – tradition we certainly hope to continue, expanding to features in both national and international publications.
The KlezKanada Poetry Retreat runs from 9AM to 12PM each day.
POETRY RETREAT SCHEDULE
TUESDAY, AUGUST 22:
Re-visions and Re-formulations
Whether its Marlowe's Jew of Malta or Shakespeare's, "Hath Not a Jew Eyes", Renaissance poetry has been marked by disturbingly anti-semitic moments. Using contemporary avant garde vizpo elements, such as black-out techniques, over-writing, oulippean technologies, and homophonic translations, we will compose responses, re-working these Renaissance poems, re-visioning, re-formulating, and revolutionizing in order to "make them new".
WEDNESDAY, AUGUST 23:
Excess, Abundance, Ornament and Transgression
The Renaissance was marked by a sense of ornamentation and excess. As such, we will explore text as a cabinet of curiosities, think through Bataillean economies of expenditure, write "through" Renaissance paintings – semantically, aesthetically, viscerally reveling in aspects of excess, invention, luxuriance, play and splendor. Additionally, we will negotiate aspects of past and present, through a close reading and re-visioning of the highly "ornamented" 15th C. Shulchan Aruch (Code of Jewish Law) and create list poems of New Laws.
THURSDAY, AUGUST 24:
Language Circuits and Rebirthed Meaning
Under the influence of the mystical renaissance in 16th-century Safed, Lurianism became the near-universal mainstream Jewish theology in the early-modern era, both in scholarly circles, and in the popular imagination. With reference to Lurianic poesis (aspects of tzimtzum, the sefirotic system, shevirat ha-Kelim and gilgul), and a shout-out to Galileo and Copernican notion of epicycles and deferents), we will explore the history of mystical and scientific ideas re-birthed through language experiments.
FRIDAY, AUGUST 25:
Gutenberg Revisited
In honor of the printing press, this day will feature writing focusing on the physicality materiality of language, of the book as object, the book unbound, the book beyond the book, the book as site of transgression and revolution. Drawing on the ways books played a crucial role throughout philosophy, history, and aesthetics, we will work across disciplines. Using a wide range of materials, textures, bindings and verbal-visual visions to sculpt the work created during the week, we will create chapbooks that explore an intermediatic textatic space, celebrating language's inherent viscerality, how form is always-already an extension of content, and how the book itself is a site.
SCHOLARSHIPS AVAILABLE! – DEADLINE MAY 15st, 2017