The Book of Questions: Celebrating the Legacy of Edmond Jabés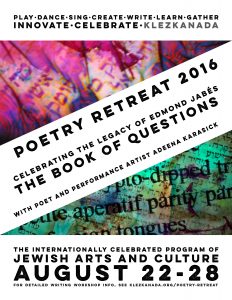 Led by Adeena Karasick

Welcome to the 5th year of KlezKanda Poetry Retreat 2016! This year we will celebrate the work and legacy of Edmond Jabés. One of the greatest European poets of the second half of the 20th century, Jabés recast traditional Jewish discourse; Talmudic dialogue, Midrashic ellipsis, and Kabbalistic nomadicism and has since had a profound effect on contemporary avant-garde writing. In keeping with the overarching KlezKanada 2016 homage to the 500th anniversary of the Venetian ghetto, through the investigation of Edmond Jabés, we will track through the concept of the ghetto as both a separation and an integration, openings and closures, liberation and restriction, how poetry communities and language, a profound incubator of culture and identity.
The retreat will not only feature master classes with internationally celebrated poets, performance artists, Adeena Karasick and Jake Marmer, but participants are invited to immerse themselves in music, dance, art, film and theater workshops, at one of the most widely renowned world music festivals in North America, with all-star faculty from around the globe. In the past, our students have collaborated on independent projects with other poets, musicians, and dancers. The retreat culminates with a festival-wide performance, and a pressing of a personalized chapbook collecting all of the work created over the course of the week. Come celebrate with world-class Klezmer concerts, readings, parties, performances, and private instruction in the gorgeous Laurentian mountain setting.
Last year, the works of our students were published in the Forward (see http://blogs.staging6.forward.com/the-arty-semite/191417/jewish-poets-in-the-woods/ and http://blogs.forward.com/the-arty-semite/187497/music-and-the-laws-of-poetry/) – a tradition we certainly hope to continue, expanding to features in both national and international publications.
POETRY RETREAT SCHEDULE
AUGUST 22
Born of the Book
"There is nothing at the threshold of an open page, it seems, but this wound of a race born of the book… whose past and whose permanence is also that of writing."
According to Kabbalistic thinking the word was composed of black fire on white fire and as such we explore the invisible history of ideas through mystical language experiments. And in keeping with the Jabesian dictum that "we will gather images and images of images", we will engage in acts of "close listening", actively interacting with the environment, collecting images of images, phrases of (im)permanence, "fiery" response, music, and conversation into poetry.
AUGUST 23
Decisive Question Unsettled
"At the end of an argument, there is always a decisive question unsettled".
We will explore the dialectic Talmudic legacy – which Jabés dipped into so profoundly – and find ways to create poetic dialogs, cranky choruses, and cacophonies, that unsettle decisive questions. Celebrating the dynamic threshold between language and thinking we will write through a poetics of nomadicism; of aphoristic fragments that fringe, braid and curl the edges of an ever-interrogative discourse.
AUGUST 24
Hundred Times More Shadow
"To be a phantom among phantoms and a hundred times more shadow"
As part of this year's larger KlezKanada theme of Ghetto and Ghetto cultures, we will be honoring the legacy of another masterful dialogical poet, the great French Surrealist poet, Robert Desnos, who perished in Buchenwald shortly after the liberation. We will further the ideas of exile, and honor the memory of Desnos – called by Andre Breton the "prophet" of Surrealism – through collaborative word games and poetry trances, which Desnos has brought into poetic experimental practice.
AUGUST 25
And You Shall Be in the Book
"When as a child, I wrote my name for the first time, I knew I was beginning a book."
At this last session, we will think through Jabesian theories of forming and unforming and how like the ghetto itself, the book is both a separation and an integration, an opening and a closing off, screams, wounds, modes of liberation and restriction. And "at the threshold of the book", we will work on creating chapbooks, from the week's work.
SCHOLARSHIPS AVAILABLE! – DEADLINE MAY 15st, 2016