KLEZKANADA YOUTH SCHOLARSHIPS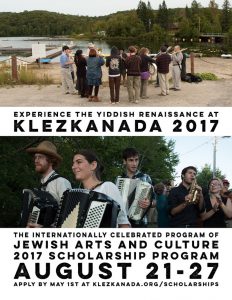 Over the past 15 years, our youth scholarship programs, unique in the Jewish arts world, have allowed hundreds of young artists and scholars of all backgrounds to explore the Yiddish/Jewish cultural heritage. The response has been overwhelming and the stories continue to roll in from participants about the ways in which KlezKanada has been a life-changing experience.
Every year, KlezKanada's Summer Institute provides interdisciplinary youth scholarships for emerging artists and scholars, ages 16 to 35. This internationally renowned program offers students an opportunity to study with many of the leading teachers of Yiddish/Jewish music and culture, and make friends and form artistic partnerships that will last a lifetime. Often graduating to positions on KlezKanada's faculty, our scholarship students carry their art and expertise worldwide, becoming the innovative culture makers and teachers of the new Yiddish/Jewish world of today and tomorrow.
The application for our 2018 scholarship program is will be available in January 2018. All applicants are expected to include a small portfolio. Applications are due May 1. Late applications will be accepted, however they will be placed on a waiting list.
FELLOWSHIP PROGRAM
A 
bridge between our scholarship program and international acclaim, KlezKanada's Fellowship Program brings bright young professional artist/scholars to KlezKanada's performance and lecture programming. By Invitation Only.